Print Options:
Roasted Corn and Tomato Salsa
Yields
1 Serving
Prep Time15 mins
Cook Time40 mins
Total Time55 mins
First you have to ask yourself, "do you want to know how to make an amazing roasted corn and tomato salsa"? It is a staple at any summer BBQ, but more importantly when done right can be a star dish. Second, and more importantly, ask yourself, do you want to make it next time? After this you will certainly be asked to do it again.
Colavita's recipe for roasted corn and tomato salsa, uses grilled corn on the cob as the stand out ingredient in this fresh, summer salsa. In addition to to the corn, however be sure to use fresh tomatoes that are certainly in season at this time. As a result you will certainly be the hit of any summertime bbq.
Finally and most important be sure to roast extra corn, so you can make a double batch afterwards. You definitely will not be having any left overs. In short...It's that good!
Pair Recipe with Roasted Corn and Tomato Salsa with:
Grilled Chicken with Chimichurri Sauce
Similar Colavita Recipes:
Grilled Corn Three Ways
Grilled Corn on the Cob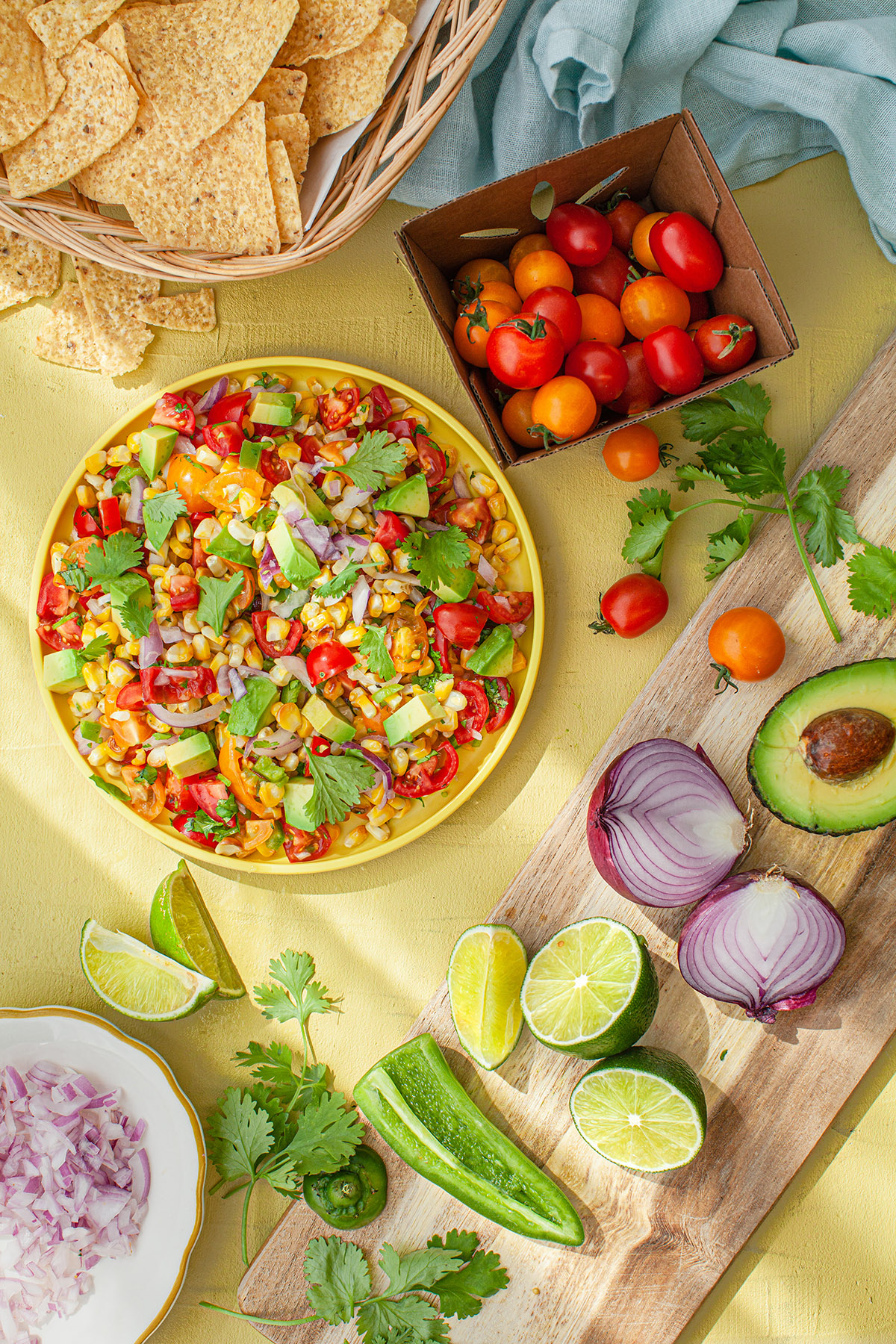 4
ears of corn, husks and silks removed
1
pt
cherry tomatoes, chopped
1
jalapeño, veins and seeds removed and chopped
1
avocado, peeled, seeded, and chopped
⅓
cup
fresh cilantro, minced
1
To start heat your oven to 425°F.
2
Remove the husks and silks from the corn ears. Place them on a rimmed baking sheet and drizzle them with 1 tbsp Colavita Olive Oil. Roast corn in the oven for 30 minutes, turning it every 10 minutes as a result it browns evenly.
3
Remove from the oven and allow to cool.
4
While the corn is roasting, at the same time, place tomatoes, onions, avocado and jalapeño in a medium bowl.
5
Add to the bowl the lime juice, salt, 1 tbsp Colavita EVOO, and the cilantro. Mix well with a spoon.
6
Once the corn is cool, slice the kernels from the cob with a knife. Place them in the bowl with the other ingredients and mix well. Taste and adjust for seasoning.
7
Serve with tortilla chips!